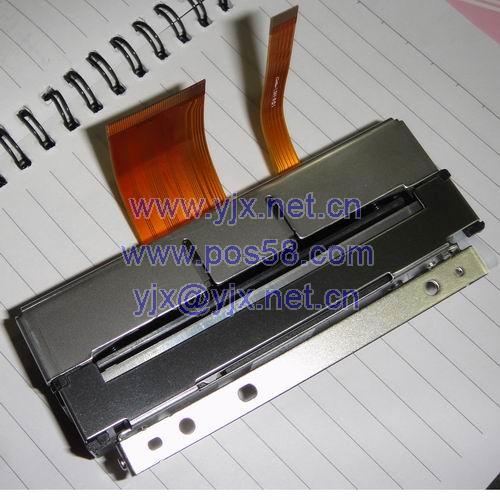 BASIC INFO
CAPD247/347
24V range mechanism incl. Auto Cutter - Paper width : 56mm and 80mm - Easy Paper Operation
Features
2-inch and 3-inch model available
Maintaining the compact size including the auto cutter part (height <30mm)
Printing speed up to 200 mm/s
Cutting frequency of 30 cuts/minute
Cutter lifetime of 1.000.000 cuts or more (in specified environment)
Paper insertion by easy paper operation
Latch function to secure unchanging pressure between thermal head and platen
The combination of the 24 Volt printer mechanism LTPD247 (horizontal version) plus auto cutter results into this highly reliable, robust, fast and cost oriented printing solution. In addition to the benefits of the LTPD 24 Volt series, the cutter offers a reliability of 1.000.000 cuts minimum ensuring a continuously reliable paper output. With a height of less than 30mm including the auto cutter part this product makes the grade where space is limited.

As to peripherals we offer a serial and USB interface, CPU and Windows drivers (XP and Vista).
Easy Paper Operation Mechanism 24V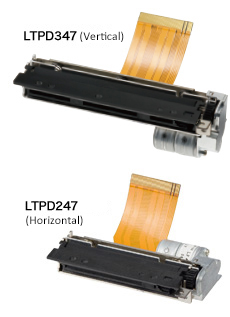 Thermal Printer Mechanism
LTPD247/347
High performance in compact design
Max. printing speed : 200mm/sec
Platen latch function
Label printing *Under specific conditions only.
Model
LTPD247
LTPD347
*1 Use recommended thermal papers. *2 Excluding protrusion.
Printing
Method
Thermal line dot printing
Number of dots/line
432
576
Resolution (dots/mm)
8
Paper width (mm)
58
80
Printing width (mm)
54
72
Speed (mm/sec) max
200
Paper path
Curved
Detection
Head temperature
By thermistor
Platen position
By mechanical switch
Out of paper
By photo interrupter
Power supply (V)
Operation voltage (Vdd)
2.7 to 3.6 / 4.75 to 5.25
Operation voltage (Vp)
21.6 to 26.4
Peak current (A)
Head
2.61 (26.4V / 144dots) / 5.23 (26.4V / 288dots)
Motor
0.44
0.52
Service Life
Pulse activation (pulse)
100 million
Abrasion resistance (km)
100*1
Operating temperature (˚C)
-10 to 50
Dimensions (W×D×H mm)
Horizontal
71.0 × 30.0 × 15.0*2
91.0 × 30.0 × 15.0*2
Vertical
71.0 × 15.0 × 30.0*2
91.0 × 15.0 × 30.0*2
Mass (g)
Approx. 56
Approx. 64
Interface
Model
IFD001-01UK
IFD001-01SK
*4 Please see "Associated software tool" for details.
CPU
PTD00P01
Thermal printer
LTPD247, LTPD347, CAPD247, CAPD347
Operating voltage (V)
Vp: 21.6 to 26.4
Character matrix (H×W dots)
16 dots characters: 16 × 8, 16 × 16
24 dots characters: 24 × 12, 24 × 24
Character type
Extended graphics character set
Yes
Yes
Katakana character set
Yes
Yes
Codepage 1252
Yes
Yes
Optional font
Yes
Yes
Downloaded character
Yes
Yes
User-defined character
Yes
Yes
JIS 1 & 2 level kanji
Yes
Yes
Communication interface
USB (2.0)
Serial (RS-232C)
Dimensions (W×D×H mm)
69.0 × 50.0 × 14.0
Software*4
Printer driver, OPOS, POS for .NET, Linux®
CPU
Model
PTD00P01
*5 CG ROM: Japanese *6 Please see "Associated software tool" for details.
Thermal printer
LTPD247, LTPD347, CAPD247, CAPD347
Package form
120pin QFP
Operating voltage (V)
Vp: 21.6 to 26.4, Vcc: 3.0 to 3.6
Input frequency (MHz)
12 +/- 0.01%
Configuration
C-MOS LSI
Communication interface
Parallel, Serial, USB
Character type
Extended graphics character set,
Codepage 1252 Other characters is available with CGs*5 or external ROM
Character matrix (H×W dots)
16 dots characters: 16 × 8, 16 × 16
24 dots characters: 24 × 12, 24 × 24
Dimensions (W×D×H mm)
16.0 × 16.0 × 1.7
Software*6
Printer driver, OPOS, POS for .NET, Linux®