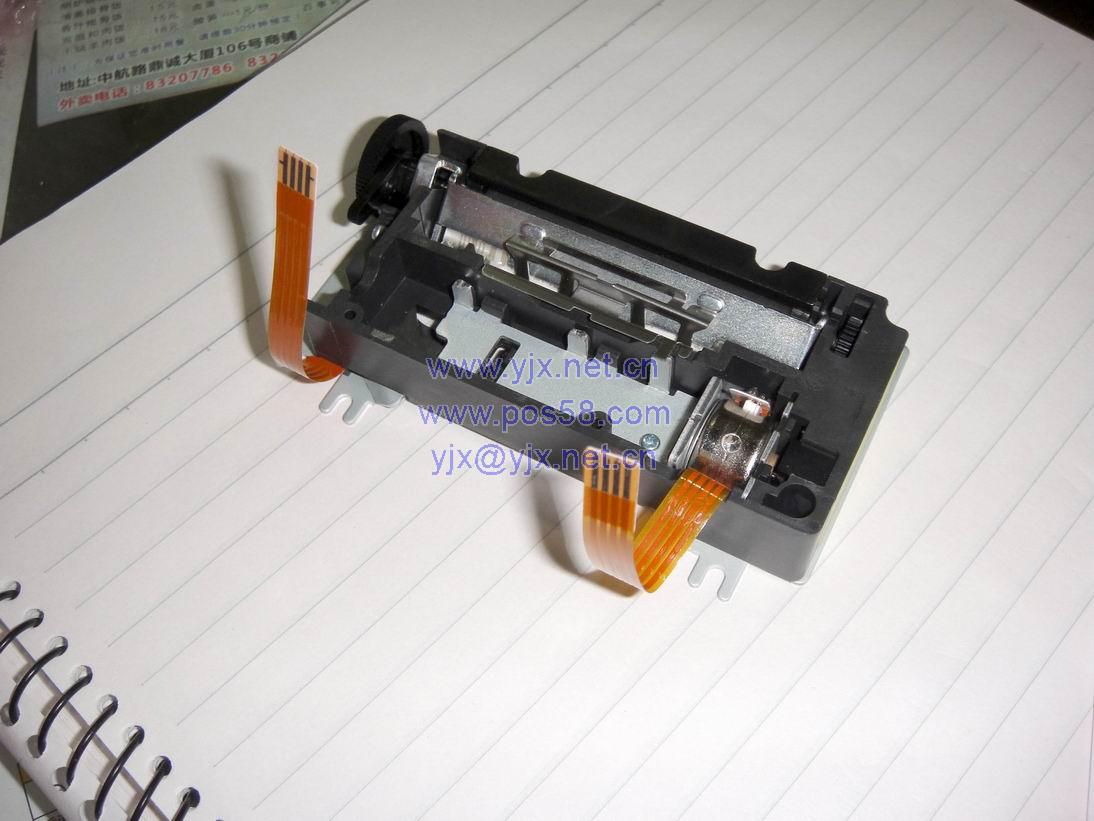 BASIC INFO
EP SERIES THERMAL PRINTER MECHANISMS
Paper width Operation voltage Printing speed Model
2 inch 24V 60mm/sec. EPL1701S2
75mm/sec. EPL1952S2 EPL1954S2
4 inch 60mm/sec. EPL1703S4
2 inch 4.2-8.5V 56mm/sec. EPL2001S2 EPL2002S2
63mm/sec. EPL2052S2
25mm/sec. EPL1902S2C EPL1904S2C
3 inch 50mm/sec. EPL1602S3
4 inch 50mm/sec. EPL1603S4
EPL1900
EPL1902S2C
EPL1904S2C

Pape rollr

58mm
Features & Applications
Specifications

Features
High resolution head (12 dots/mm)
Small size, Light weight
Option (Auto paper cutter, Attachment plate, Paper feeding knob)
Applications
EFT-POS terminal
ECR
Medical measurement
To Page Top

Specifications
Model EPL1902S2C EPL1904S2C
(With auto paper cutter)
Resolution 12 dots/mm
Total number of dots 576 dots/lines
Printing speed Max. 300 dot-lines/sec. (25.4mm/sec.)
Paper width 58mm
Number of colums / line 36
38 dots × 16 dots characters
Reliability 5 &timees; 107 pulses, 30 km
Operating
voltage Head, Motor, Auto cutter 5VDC &plusminus; 0.5VDC
Logic 5VDC &plusminus; 0.25VDC
Current Head Max. 2.5A (at 5.5V, 144 dots coloring)
Motor Max. 0.65A (at 5.5V)
Cutting method - Partial cut
Cutting time - 0.8 s
Cutting life time - 0.3 million cuts (MCBF)
Operating temperature
and humidity -5 to 50°C, 35 to 85% RH (No condensation) -5 to 40°C, 35 to 80% RH (No condensation)
Storage temperature
and humidity -25 to 70°C, 5 to 90% RH (No condensation) -25 to 70°C, 5 to 90% RH (No condensation)
Weight Approx. 75 g Approx. 130 g
Dimensions 82 (W) × 41 (D) × 15.8 (H)mm 82 (W) × 41 (D) × 25 (H)mm
All specifications are subject to change without prior notice.